Snap Gauges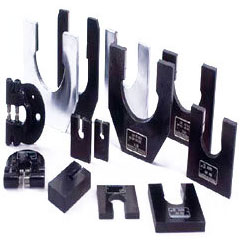 Are you in search of good quality snap gauges? We assure to serve you in the best possible way. We offer a vast range of snap gauges that are available in two types such as adjustable snap gauges and plain snap gauges. We procure these gauges from most reliable manufacturers of the country that guarantees our customers of our credibility. Available in various specifications and grades, these gauges are widely utilized in industries for respective industrial applications. We are considered as one of the principal snap gauges suppliers in India.
Master Setting Ring. S/E & D/E Plug Gauges & Snap Gauges, Ring Set, Slip Gauges, Adjustable Snap Gauges, Dial Snap Gauges, Keyway width Gauges, Measuring Pin Boxes, Morse taper (MT) Gauges, Sine Bars, Sine Centre, Master Cylinders.
Plain Carbide Gauges :
Supplied as per the Specification.
We also offer 'Calibration Services' of Gauges & Measuring Instruments.
We can also offer Threading Tips, HSS & CS Taps & Dies, HSS & Carbide Milling Cutters. Threading chasers etc.
We are the registered Vendor with
M/s. Larsen & Tourbo Ltd., M/s. Godrej & Boyce Mfg. Co. Ltd., M/s. Godrej-GE Appliances Ltd., M/s. Crompton Greaves Ltd. etc. Please Contact us with your requirement for any of the above items as one stop sources & take benefits of the stock as well as prompt delivery for Non-Stock items.